Helen Groth
Psychotherapist and counsellor in clinical training at Transactional Analysis Cymru.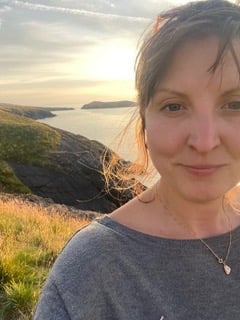 When I think of my therapy practice, I am drawn towards the word 'Cynefin' it is an old welsh noun originally thought to describe the habitual tracks and trails left by wild animals on the hillsides. It means habitat but it is also a word deeply connected with our sense of place and belonging, physically, spiritually or culturally.
I am a passionate about communication and believe that by exploring how we experience relationship with ourselves and others we can move away from those habitual tracks and trails that we have walked for so long and find a new way forward in our lives and our relationships that will help us find where we ought to belong, however we choose to exist. I believe therapy is for everyone, however they come and I offer a space to bring your whole self, however you're feeling. I am based just outside of Cardigan and offer 1:1 50 minute sessions either online or face to face.
You can email me at helen@cynefin-therapy.com to arrange a meeting. Getting in touch is a huge step and I will honour that by getting back to you within 48 hours to arrange a initial session. Finding the right therapist who you feel comfortable with and can trust is paramount to achieving your desired outcomes and this first meeting will be an opportunity for you to decide if you think I'm the right therapist for you.